Robinson's Plumbing installs and services residential and commercial gas hot water heaters and electric water heaters. We also provide emergency services 24/7 (Call 804-794-0918 in Richmond and 434-244-2989 in Charlottesville).
Conventional water heaters–which have tanks–are the most common choice for people shopping water heaters. But, you can actually save money and decrease your impact on the planet by installing water saving devices and tankless water heaters. Hybrid water heaters are another option; they combine the best of tank and tankless heating systems.
Conventional Hot Water Heaters
Gas or electric water heater installations by professional contractors prevent burns and improper installation that could be dangerous. We install leading water heater manufacturer brands. Click on each brand to learn more:
Contact us for more information on conventional water heater products.
Tankless water heaters save homeowners money because rather than having a large supply of hot water ready all the time, a tankless water heater will only heat the water as it is needed. That can add up to a 40% savings in energy bills.
Tankless water heaters also take up much less space and are expected to have a life two times longer than traditional tank heaters. Since they use less energy, tankless water heaters are Energy Star approved by the EPA.
Robinson's Plumbing highly recommends Rinnai or Navien tankless water heaters. We're proud to sell, install, and service these respected tankless water heater bands. For more information, call us at 804-794-0918 or contact us online.
Contact us for more information on tankless water heater products and water heater devices.
Choosing The Right Water Heater For You
Here are some tips from energy.gov on factors to cosider when choosing a new hot water heater:
Fuel type, availability and cost. The fuel type or energy source you use for water heating will not only affect the water heater's annual operation costs but also its size and energy efficiency. See below for more on selecting fuel types.
Energy efficiency. To maximize your energy and cost savings, you want to know how energy efficient a water heater is before you purchase it. Visit the pages on different types of water heaters (linked above) for more on estimating energy efficiency.
Costs. Before you purchase a water heater, it's also a good idea to estimate its annual operating costs and compare those costs with other less or more energy-efficient models. Visit the pages on different types of water heaters (linked above) for more on estimating costs.
Size. To provide your household with enough hot water and to maximize efficiency, you need a properly sized water heater. Visit the pages on different types of water heaters (linked above) for more on sizing.
The size and capacity of your water heater will have a great impact on how well it's able to supply hot water throughout your house or workplace. The more demand for hot water you have, the more capacity you'll need to keep your hot water demands satisfied. Here's a simple to give you an idea of how demands impact the size tank you'll need: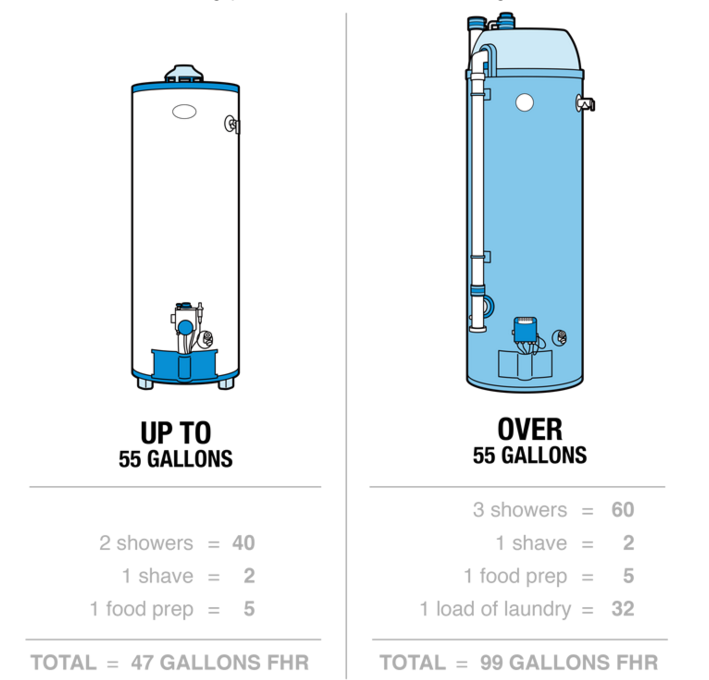 Overall service was excellent
My water heater was overheating and leaking. They gave me my options and I decided on a new water heater. As my old water heater was installed without a drain, they worked to install my new heater properly. My new water heater is in and working with a 2yr. warranty. They were very knowledgeable and explained what to do if this ever happened again. I feel I paid a fair price for the services rendered. I would highly recommend Robinson's Plumbing Service for all plumbing needs.
-Linda in Powhatan, VA
The service was as good as it can get
He (Eric) was on time and very efficient in finding the problem with the hot water heater. [It was] repaired quickly and the price was reasonable for the work. [He] answered all questions without hesitation in his answers. Very knowledgeable.
-Larry in Chesterfield, VA
Very knowledgeable and professional
Rodney installed [the] water heater in my condo. Very professional and knowledgeable. [He] answered any question that I had. [I] had an additional leak after the water heater was installed…thought that the leak was from the new water heater. Rodney came back the next morning to diagnose the problem. The leak was actually from the air conditioner overflow pipe. [He] helped me to reach out to an air conditioner repairman. Rodney is a person that tries to do right by the customer. I highly recommend Robinson's Plumbing and especially Rodney.
-Joe in Richmond, VA
Call 804-794-0918 or contact us online to learn more about the right water heater for your lifestyle and budget and for assistance with water heater maintenance and repairs.
You may also be interested in these articles on hot water heaters: