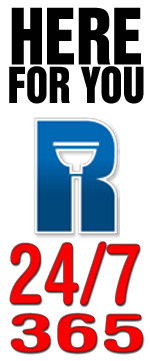 If you have a true plumbing emergency, such as no working toilet in your home or an uncontrollable water leak, we are available 24 hours a day, 7 days a week, typically with a 1-2 hour response time.
We're Here When You Need Us
Call 804-794-0918 (Richmond)
Call  434-244-2989 (Charlottesville) any time of  day or night.

If you call during our regular business hours (Monday through Friday 7:30am-4:30pm), someone will always be available to assist you with your emergency.
If you call for emergency plumbing service outside regular business hours, your call will automatically be forwarded to a member of our staff who can promptly dispatch a plumber.
Reasons To Call For Emergency Plumbing
If you get home and you have a floor full of water, then it's pretty obvious that you need to get a plumber to the house fast. But, it's not always as straightforward as flooded floor or a spewing pipe. Here are some other reasons that you should probably get an experienced plumber to your house as soon as possible:  
All of the drains in your house are clogged. Dealing with a clog in one, isolated part of the house can be a pain, but it's usually relatively easy to fix and, more importantly, it won't really impact other parts of your house. However, if multiple drains are clogging then you're dealing with a bigger problem that should be dealt with quickly. If this is happening in your home then you're probably dealing with a major clog, deeper in your plumbing. It could even be outside of your house. To take care of backed up plumbing this significant, it will take a trained expert to trace the clogging to its source and quickly resolve the issue.
Your water pressure has decreased drastically. Weak water pressure can be a clear indication of some obstruction or leaking in your plumbing that needs to be taken care of quickly. If you have a pipe that is leaking then it's important to have it repaired before it can cause more significant damage to your property. Low water pressure can also be a result from a leak or other issue in the main water supply. If you noticed low water pressure in multiple areas of the house then it's time to call a plumber to investigate the problem.
You're not getting any water. First thing's first: Make sure you paid your water bill. If that's all squared away, then you're dealing with a bigger problem. If it's cold outside then you likely have frozen pipes. Frozen and burst water pipes are extremely common during the colder months.  The low temperatures can freeze exposed or poorly insulated piping, leading to clogging and even water pipe damage. If you aren't able to get water in your house, especially when it's cold, call a plumber immediately to investigate the problem.
You have a major clog that you can't get with a plunger or plumbing snake. Most of the time when your sink or toilet is clogged, you can use a household tool to unclog it. Most people have a plunger and many have a basic plumbing snake. But, these tools don't always get the clog out and we strongly recommend not to use hazardous, destructive liquid drain cleaning products. If you can't seem to get a clog out then it could be a sign of a more serious issue, or perhaps it's just a tough clog that an experienced plumber will know how to fix.
Call Robinson's For Your Emergency Plumbing Needs
Whether you're dealing with one of the situations listed above or you have a different problem that needs immediate attention, contact Robinson's Plumbing today!
Call 804-794-0918 (Richmond) any time of day or night. 
Call  434-244-2989 (Charlottesville) any time of  day or night.