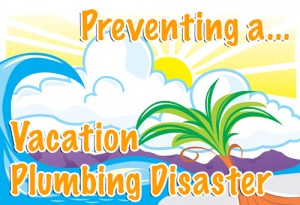 Want to save more money on your plumbing and repair bills? Here are some simple steps you can take to prevent a vacation plumbing disaster.
After all, coming back from a fantastic vacation is bad enough. It's even worse if you come back to a wet, soggy, moldy, ruined house because something leaked and you weren't there to catch it.
Here are some simple precautions that will save you a lot of time, money—and heartache.
Turn off your water at the main shut off valve. Water will stay in your system—but no new water will be let in, so if a leak does happen, it will be minimal. I should add—and this is important—only shut the water off at the main valve if that valve is in good working order and you don't have anything in your house that relies on water to function. If it's hard to reach or not in good working order, use the individual shut off valves under sinks and behind toilets.
Check hoses and lines for wetness, cracks, and leaks. While you're turning off the water, check your lines for potential problems. Most common causes of leaks during vacation are old, worn-out lines and hoses, particularly with washing machines, drinking water systems, and at valves. Check the hoses to all your major appliances.
Put a tray of kitty litter in the bathroom. Want to reduce mildew and mold while you're gone? Kitty litter absorbs moisture. Put a big tray of it in your bathroom or other moist areas. It will help reduce mold and mildew in your shower curtains, the corners and grout where it builds up, and other problem areas.
Check your sump pump. Make sure it's in good working order, and clear any debris around it.
Turn off your water heater. Turn down the thermostat of your water heater while you're gone or just turn it off. Some newer models even have a "vacation mode" that you can set with the push of a button. After all, why pay to heat water you won't be using?
Ask someone to check in. Have a neighbor or friend check your home periodically for anything that seems out of the ordinary, from leaks to break-ins.
And if you're gone a lot, have a lot of expensive property to protect, or want to monitor a rental property, you can always consider getting WaterSafe—a system that can monitor for leaks remotely and automatically shut off your water when a leak is detected, minimizing the damage to your property.
Enjoy your vacation—and with these plumbing disaster prevention tips, you can enjoy the homecoming a little more now too.
P.S. Want a little help inspecting your home before you leave on an extended vacation? We offer inspections as part of our Personalized Plumbing Prevention Programs. Click here to see if there is a program that fits your needs. Then, call us at 804-794-0918 to sign up and schedule your first inspection—just in time for your vacation.