How can you tell when to make that

emergency

call, when you can wait till morning, and when to call your utility company instead?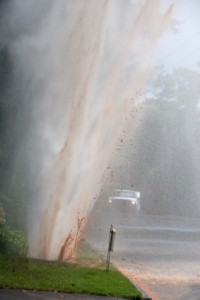 When is an emergency NOT an emergency? How can you tell a true plumbing emergency from something that requires a normal repair call—or even a call to your utility company?
If you find a small leak, something looks worn, or you're doing planned repair work, these are all things you may be able to fix yourself. Tightening a few bolts, replacing a worn hose with a new high quality one, or even installing vanities or new faucets aren't that hard to do—and they can save you trouble later or make your living space seem brand new with the right fixtures.
And on the opposite extreme from that, if you have water flowing uncontrollably from somewhere, you obviously want to call a plumber stat.
But what about all the in-between moments? What kind of plumbing problem warrants a 2a.m. emergency call—and what can wait until business hours?
Uncontrolled water flow or spray

. If water is flowing uncontrollably and the water shut off valves aren't controlling the leak, call your plumber immediately. They should be able to have someone out to you within the hour, if not sooner, for a true emergency. Make sure to explain the situation clearly, including where the water seems to be coming from, whether it's hot or cold water, how fast it seems to be coming out, and that the shut off valve isn't controlling the flow.

Water doesn't come out when you turn on the faucet

. If no water comes out of one faucet, check the water shut off valve to make sure that it's open. If that doesn't work, then check the rest of the home or office. If there isn't any water at all, check your main shut off valve to see if it's open and your water meter to see if it's leaking water. Also, call the utility department to see if there is any work going on in your area or an outage.
Water is leaking, but the shut off valve controls the flow. If you can turn off water at the shut off valve, you can probably wait until morning for a plumber to show up. It may be somewhat inconvenient, depending on what it is, but at least you're not wasting water or having your home or office ruined.
Toilet is out of commission. If you only have one toilet, and it isn't working for whatever reason, and you can't unclog it or fix the part yourself, then unless you have reasonable access to another toilet, that is an emergency. Often, your homeowners or renters insurance will pay for you to stay in a hotel, if your one toilet is out of commission for any extended period of time. Check with your agent first.
Will you have to order a part? When our friend's water heater died late at night, it was inconvenient, but there wasn't any immediate danger, once the unit was turned off. Water wasn't leaking from it, it wasn't leaking gas any more either, but she also didn't have any hot water—in February. However, it was 9:30 p.m. The supplier that had the water heater she needed (she needed a special size to fit the small space) wasn't open. So, they waited until morning, and someone was able to come out right away. She worked with the plumbing techs to make sure they ordered the right water heater, and she had hot water by the end of the day. If you suspect that you'll need a part, you may want to consider waiting, if you can, until the next business day to call a plumber. If they can't get the part you need, you'll end up waiting anyway.
You're breaking more than you're fixing. There comes a point when a job becomes too complex. Know when you're over your head. Save yourself the time and the frustration. If you've given a job your best shot, but things aren't going well, call a professional—before you make a simple job into a complex, more expensive job that requires fixing what you did to begin with.
By making sure you know where all of your shut off valves are and with annual preventive inspections of your plumbing, you can not only prevent problems—you can keep emergencies from becoming true disasters. Save the drama—and save some money too.
But keep in mind that if you do have a true emergency, we have emergency after hours people on call who can usually respond to your emergency in 1-2 hours or less (804)794-0918.
Be smart when you call your plumber—and to find out how to speak your plumber's language, check out this previous blog!