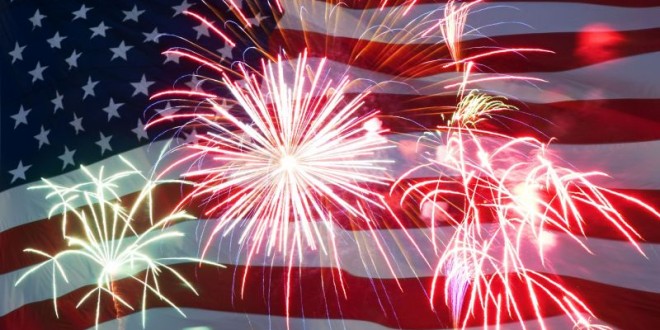 In addition to celebrating our country's independence, what comes to mind when you think about July 4th? Fireworks, barbeques, outdoor fun, hosting family and friends—all things good and festive. If you're planning to have a get together at your home this upcoming holiday, do yourself a favor by making sure your plumbing system and appliances are ready for the added strain. Don't let the fun of summer celebrations be dampened by an unexpected plumbing emergency.
In addition to stocking up on food, fireworks, libations and decorations, a little bit of preparation and attention can go a long way. Read on for more tips to ensure everything goes with the flow at your Independence Day gathering…
Bathroom
Hopefully those who live under your roof know what belongs in the toilet and what goes in the trash, but that doesn't mean houseguests do. It's amazing the items people think are flushable—baby wipes, feminine products, cotton balls, paper towels—you name it, we've seen it.
A plunger is your best ally—make sure to keep one handy.

Have a trash can accessible and in clear sight.

Consider a discrete sign asking folks to only flush toilet paper.
Learn more about common causes of toilet clogs.
Kitchen
Anything you put down the kitchen sink must go somewhere. If it's not able to easily make its way down the drain, it probably belongs in the trash can. If there is any one thing you remember, it's that small particles are ok, food scraps are not.
Keep a large trash can in the kitchen for easy food waste disposal.

Clean disposal blades by dropping in a few ice cubes and running cold tap.

Use a mesh screen or drain stopper to prevent anything from slipping by. 
Read more drain best practices.
Gas Lines
Whether you have an elaborate outdoor kitchen, or a basic grill set-up, check that your gas plumbing lines are working properly before the celebration begins.
Give your grill a good scrubbing before the burgers and hot dogs go on.

Test for leaks by brushing lines with soapy water while running the gas.

Blue flames with yellow tips show good pressure, all yellow indicates a pressure problem.
If you use propane, find out about converting to gas.
Other helpful tips to keep your 4th of July celebration going smoothly…
Clogged, frozen spots or kinks in the line can prevent your ice maker from working properly. Grab some extra bags of ice, and toss them in the freezer just in case.

Whether it's for watering grass, or keeping the kids cool during a backyard barbeque, check your lawn for standing water before starting the sprinkler. Pools of standing water are a breeding ground for mosquitos and insects, but may also indicate a damaged sewer line or leaky, broken pipes.

If you have overnight guests for long holiday weekends this summer, consider turning up the temperature on your water heater. Give 15 minutes between use to ensure everyone gets a hot shower.
Plumbing Precautions Take the Stress Out of your Holiday
If you give yourself enough time to test indoor and outdoor plumbing components, you should be in the clear for a clog and disaster-free Independence Day celebration. Of course, if you find something alarming or sense a leak somewhere in your system, you can count on the certified and experienced technicians at Robinson's to provide reliable, prompt plumbing repair.
Contact us today at 804-823-2084 to schedule service for all your residential and commercial plumbing needs!