Today's world is all about options. No matter what you're buying or using, you have to weigh the different options that are available and the price tags associated with them. That holds true for water heaters as well. Your specific needs should determine the exact water heater options you choose, but the first step is seeing and understanding all the options that are available to you.
This article will provide a list of the best water heater options available for 2016 so you can make a more educated decision about the right water heater for you and your home or business.
1. Conventional Water Heaters vs Tankless Water Heaters
This is one of the biggest differences in water heaters on the market. Both versions offer advantages and disadvantages and your unique requirements will help you choose which is right for you.
Water heaters with storage tanks, known as conventional water heaters, are the most common water heater option. With these, water is stored in a tank, which is heated when hot water is needed. They can be heated using either electricity or natural gas. Conventional water heaters work well for owners who want to spend as little money up front as possible, regardless of the long-term savings
Tankless water heaters use coils to heat water as it passes through the unit. There is no need for a large amount of stored water, which can save owners around 40% on energy bills. These work best with natural gas, but can operate using electricity if the wiring is in place or the owner is okay with spending the money to reconfigure wiring to the unit. Tankless units will cost more upfront but save more money in the long run (for normal usage). These are best for homes or businesses that typically don't have multiple hot water demands simultaneously.
There are also a few less common options, such as hybrid units, solar power units, and condensing units. For more information on these options, contact Robinson's Plumbing.
2. Natural Gas vs Electric Conventional Water Heaters
When deciding on a heating source, you must consider several different factors. Firstly, if you're buying a water heater for an existing building, you will likely have either gas lines or electricity setup to run your water heater. While gas tends to be cheaper in the long-run, it can be very costly to run new gas lines if they don't already exist.
Without the installation to consider, these are the average cost breakdowns of both types:
Gas: $25-$30 per month
Electric: $50-$65 per month
Another factor to consider is the environment. Natural gas burns cleanly in the grand scheme of things, but it does release carbon into the air. Electric water heaters, on the other hand, don't have emissions and are therefore more environmentally friendly. To learn about more factors to consider, contact an expert at Robinson's Plumbing today.  
3. What Size Water Heater Should You Get?
The size of your home or office water heater has major implications on its efficiency. It's critical that you choose a correctly sized water heater or you will ultimately be unhappy with the high operating costs and the unit's ability to deliver the right amount of water at the desired temperatures when needed.
To help with your decision, you should consider the demands that will be put on the water heater, especially times when hot water may be needed in different places at the same time. You can use this guide from Consumer Reports to figure out what size water heater will provide your home or office with the appropriate amount of heated water.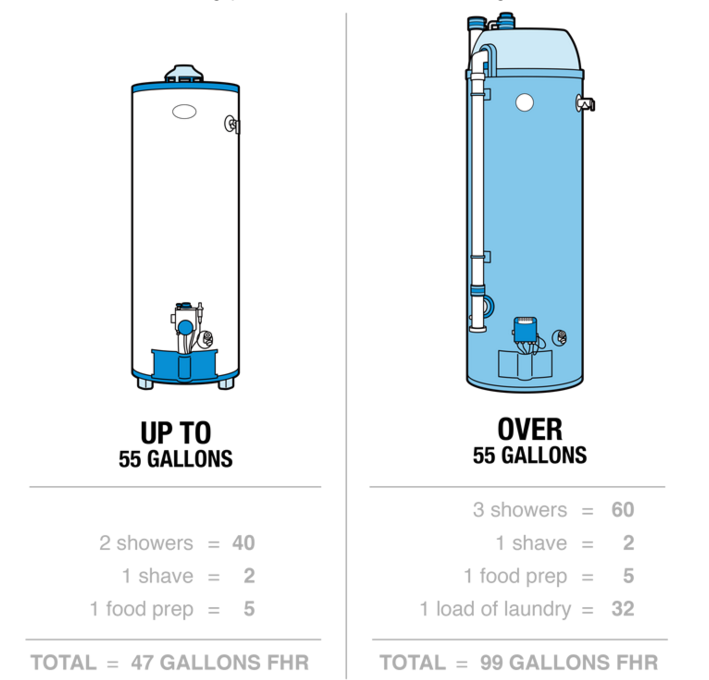 Also important to note, the overall size isn't always directly related to the tank size. Since water heaters are often located in small spaces, it's very important to check the overall dimensions of your desired water heater, so you know it will fit when it comes time for installation.
4. Add-On Water Heater Options & Features
As mentioned, there are many different options when it comes to purchasing a new product. Here are a few common options to consider when browsing water heaters:
Warranty: Water heater warranties will range from barely there to very comprehensive. Because this is an important part of your home or office, it's important to carefully consider the warranty attached to your unit. Warranties can run anywhere from 3 years up to 12 years. Typically, you should aim to get the longest warranty available.
Digital Displays: If you want to make sure your water heater is a breeze to operate then you may want to consider one with a digital display. These are easier to operate and often come with advanced features that help you do things like change settings while you're on vacation.
Anti-Scale Devices: This one is important–some water heaters will claim to offer "anti-scale devices" to help prevent mineral buildup within the unit. However, this features is not really needed and your focus should really be on the warranty length. Units with longer warranties are typically constructed with more heavy duty element (which is why they offer longer warranties).
5.  What Brand Name Should You Choose?
Just like any other product, it feels better to choose a name brand that you know and trust. But, chances are good you're not a water heater expert, so how do you know which brands are best? Here are 3 brands that we recommend and even count on for their high-quality, dependable water heater products:
Conventional Water Heaters
AO Smith: With a wide range of products for both commercial and residential applications, AO Smith has been a trusted name in water heating for nearly 70 years. Find out more here.
Bradford White: Having been in the business since 1881, Bradford White is a water heater brand that is internationally recognized and offers everything from basic products to the latest & greatest options. Find out more here.
State Water Heaters: Employing over 2,900 people and having a daily production of over 10,000 units makes State the world's largest water heater manufacturer. Their size and success speaks to the quality of their products. Find out more here.  
Tankless Water Heaters
Rinnai: With over 45 years of product innovation and improvement, Rinnai has logged over 30 million water heater installation worldwide. Find out more here.
Navien: Navien "knocks the competition out of the water" with an unparalleled efficiency rating of 98 percent. Use Navien for state-of-the-art efficiency. Find out more here.  
Choose The Right Water Heater For You
There are many different options when it comes to choosing the right water heater for your home or office. It's important to weigh all of the different factors together to make the right decision for long-term comfort and satisfaction. To place an order or inquire about water heater products and services at Robinson's Plumbing, contact our experts today.