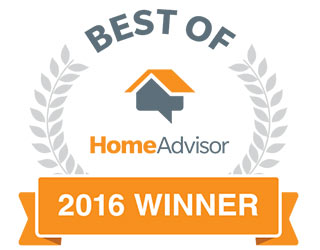 When we started Robinson's Plumbing Service in 2006, we did it to fill a void in Richmond's plumbing services industry. That void was created by plumbers who didn't always have the experience to properly treat customer issues, who lacked green and energy-saving initiatives, who didn't provide the highest quality services at reasonable prices, and because of plumbers who didn't always put the needs of their clients first.
We've said all along that our goal is to provide you with quality customer service and superior plumbing guidance from experienced professionals who you can trust. But anybody can say that about themselves, right? That's why the 'Best of HomeAdvisor' Award is so important. It's a reflection of the effort we put into providing high quality plumbing services and it shows that we have successfully provided plumbing services to our customers over the past year. Here's how the HomeAdvisor award works:
What is HomeAdvisor?
If you own a home (and even if you don't), you've probably heard of HomeAdvisor. If you haven't, HomeAdvisor is an online tool that makes it easier for you to find reliable, trustworthy contractors in your area and to get any number of home improvement and emergency jobs done.
HomeAdvisor Achievements Help You Feel Confident With Your Contractor
To make sure you know what you're getting, HomeAdvisor has created a system of achievements that contractors can earn. These achievements range from the amount of time the contractor has been around to acknowledgement of excellent service. Robinson's Plumbing Service is proud to have earned the following achievements with HomeAdvisor:


Best Of HomeAdvisor 2016
The 'Best of HomeAdvisor 2016' Award is presented to "the best of the best" contractors on the HomeAdvisor site and it's awarded based on quality, service, and value provided by the recipients. According to HomeAdvisor, that means:
Quality: Superior work practices
Service: Commitment to providing the best assistance
Value: Fair prices for the quality of work and services provided.
Out of over 2 million reviews and ratings collected by HomeAdvisor, the 'Best of HomeAdvisor' winners had the highest rankings throughout the entire network.
Robinson's Commitment To Excellent Customer Service
We're very proud to have achieved the 'Best of HomeAdvisor 2016' Award. This achievement acts as a reminder for us to continue our mission of providing quality customer service through a network of experienced professionals. To see the services we offer and our current specials, visit our Plumbing Services page.
If you have questions or need immediate help, call us:
Richmond –804-794-0918
Charlottesville –434-244-2989