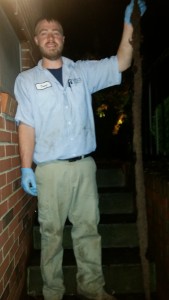 In a scenario all too familiar for people with basements, after a period of heavy rain you begin to get water in your basement. Your first step is to identify the source of the water. In many cases, there is an exterior drain that is obstructed and is causing water to back up into the basement.
This is exactly what happened to this Richmond, VA homeowner. After clearing the visible debris from an exterior drain, the water still was not receding, and as rain continued to fall, water continued to flow into their basement. Frustrated and concerned, the homeowner called the dedicated on-call crew at Robinson's Plumbing Service at 1:00AM!
Within a short period of time, one of our on-call plumbing technicians was on the scene. It was identified that a root system has penetrated the drain line and had grown to the point where flow was completely obstructed.
By 4:30am, the root system was completely removed from the drain line, and proper flow was restored to the exterior drain.
Whether you have a similar drain issue, a severe plumbing leak, or any other kind of plumbing emergency, no matter what it takes, day or night, you can count on the team at Robinson's Plumbing Service to answer your call, and to get a plumber dispatched promptly to tackle your plumbing problem.