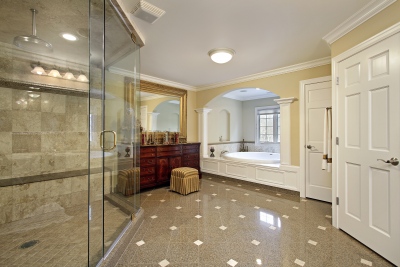 Planning a luxury bathroom can seem like a daunting task. Once you've started the process, getting the bathroom of your dreams can be confusing, especially considering that the fixtures are often the last to be installed, yet they are the first things that should be selected. Seems backwards doesn't it? The rough plumbing that goes in behind the scenes (or walls) has to be defined at the beginning of the project, but it is dependent on the faucets and fixture sizes and specifications. Here are some tips for simplifying the process and ensuring you get the final result you've been hoping for:
Choose eye catching faucets first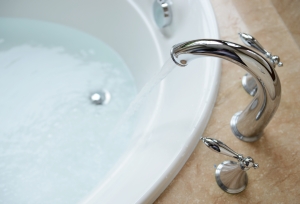 Your faucets are a focal point and help to set the tone for the rest of the décor. As we mentioned before, your faucets may be one of the last things to install, but you'll need to pick them out first so your plumbing can be properly positioned. Common faucet types include:
Wall mounted– These faucets are frequently matched with freestanding washbowls and require a separate wall-mount valve and drain. One of the benefits of wall mounted faucets is that it eliminates the tight space between the faucet and backsplash, making it easier to clean.
Single set– This all-in-one option has a spout and single mixing handle in one piece. Single set faucets usually look best when centerset.
Two handle– This centerset design combined two handles on a single base, but requires a separate hole in the countertop for each valve.
Wide-spread– This faucet features separate hot and cold water handles and requires 3 holes for the spout, hot and cold water handles.
Prioritize water efficiency
Toilets, showers and faucets have all become more water efficient than previous models and they still perform optimally! Gone are the days of flushing a low-flow toilet 3 times to get the job done. These days you can conserve water, which helps the environment and saves on your water bill, and still get the water pressure you expect.
Improvements in water efficiency have been driven by the EPA's WaterSense program, which labels items that beat federal standards by 20% or more. If you're wondering if it really makes a difference, consider that replacing an older toilet with a WaterSense approved model could save a family of four up to 16,000 gallons of water per year, which translates to $100 savings each year.
Don't skimp on the shower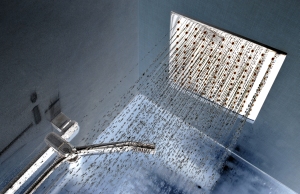 When was the last time you took a bath? If you're like most people, you probably don't use the bathtub on a regular basis, which is why we're seeing more and more people eliminate their bathtub in order to increase the size of their showers. To take advantage of all the features your spa-like shower retreat can offer, such as dual shower heads and body sprays, you're shower stall needs to be a minimum of 4'x6'. If you can stretch it to 5'x7' you can likely eliminate the need for a shower door, which can carry a hefty price tag.
Evaluate water use
Even though you may have opted for WaterSense qualified fixtures and faucets, if you're updating your shower with multiple showerheads and body sprays, you may see your water and energy use increase. Using more water than your pre-renovation bathroom may mean that you need to adjust your plumbing accordingly. For example, top of the line showers often require that the size of the drain and/or water lines be increased by a quarter inch.
Another area that may be affected by your new in-home salon is your water heater. A higher hot water demand may necessitate the need for a larger water heater. If you're thinking about replacing your heater, be sure to consider all the heater options that are available to you and determine which will be the best fit for your family.
If you're ready to discuss the plumbing needs of an upcoming renovation, give us a call and we'll help create your the luxury bathroom you've been looking for.