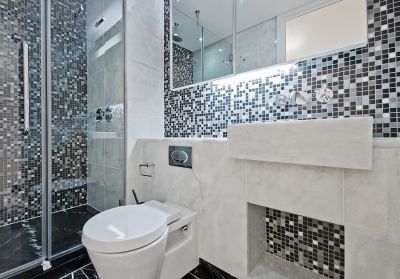 You might wonder how much you really need to know about your toilet. As long as its doing it's business so you can do your business, you probably don't think about your toilet much. However, if you're doing a bathroom renovation or if your toilet breaks, leaks or doesn't flush properly, you're probably considering what toilet will best suite your needs, without breaking the bank.
What do toilets cost?
You can find economical toilets that provide basic reliable functionality for as little as $200, on the other hand you can find premium toilets with full automation and self-cleaning features for as much as $2,000. The average homeowner can expect to pay about $400 for a new toilet and expect it to have a few upgrades to allow for space limitations, increased comfort or water savings.
Toilet types and features
When selecting the right toilet for your home, it's important to think about where and how it will be used. For example, if the toilet is located near bedrooms, you may want to look for a quieter model to avoid disturbing those sleeping nearby. Here are some other situations to consider before purchasing your next porcelain throne:
Not all toilets are sized the same. Do you have space limitations? The last thing you want it to order a toilet, get it home and discover it's too big for the bathroom. Be sure to measure the rough-in, the distance from the wall to the flange (hold-down bolts). Choosing a toilet with the same rough-in will make installation faster and more simple.
You'll also want to think about what size will be most comfortable for you. Standard toilets stand about 15" off the ground. However, most manufacturers today offer "comfort height" toilets that measure 17" to 19" tall, which allows them to comply with the Americans with Disabilities Act and provide greater comfort for taller people, older folks or anyone with knee pain. On the flipside, shorter people and kids are likely to consider the standard height toilets more comfortable.
Can you save water and money in the long run? Water efficiency standards have greatly improved over the last couple decades, in fact, as of 1995 toilets are required to use 1.6 gallons per flush or less. You can save even more water by opting for a WaterSense model, which use just 1.28 gallons or less. Still want more savings? Consider getting a dual-flush toilet, they provide two separate flush settings, one for liquid waste that uses about 1 gallon of water and another for solid waste that requires more flushing power.
Are you pressed for time and find it hard to keep up with bathroom maintenance chores (or just generally dread cleaning the toilet)? Good news! There are some toilets available that actually self clean. Sound too good to be true? It's just the marvel of modern technology. Some manufacturers, such as American Standard and TOTO, offer stain and germ resistant surfaces. These coatings limit the amount of bacteria that can grow within the toilet, meaning mold, mildew and other odor causing contaminants are no longer an issue.
Interested in premium features? Ever hear of a luxury toilet? Now you have…TOTO offers the Neorest 550, which comes with an automatic open and close lid, remote control, heated seat, hands-free flush, WaterSense certification, and a programmable nightlight. Kohler also offers several high end options that feature bidet options, such as heated water sprays, air blowers, remote control, an automatic deodorization and a nightlight.