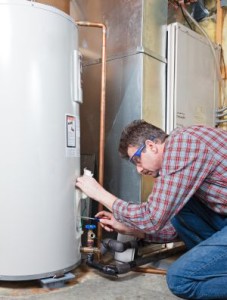 Back in April 2010 the U.S. Department of Energy (DOE) published a final rule for the energy efficiency regulations of residential water heaters, which takes effect on April 16th, 2015. After April, manufacturers will no longer be able to make the same water heaters that are made now. The new regulations are estimated to save about 3.3 quads of energy, which will result in about $63 billion in energy bill savings, and reduce carbon dioxide emissions by more than 172 million metric tons, or the equivalent greenhouse gas emissions of almost 34 million cars.
What does this mean for you?
Several water heaters will no longer be made, such as atmospheric vent heaters. The new energy efficient models will be 2" taller and wider in diameter and heaters under 55 gallons will require at least 3" more when preparing the space to install. When space is restricted, a heater with a smaller gallon capacity may be installed, a different heating technology could be used, or the water heater may have to be relocated to accommodate a larger unit or reduce noise.
Water heaters over 55 gallons will undertake the most changes, and potentially require homeowners to switch models. Electric units will be replaced with hybrid electric heat pumps and gas units will be changed to condensing water heaters.
The bottom line
The new energy standards may reduce your energy bills, but increase replacement and installation costs, especially when space is limited. The cost increase will be dependent on the size and type of water heater, but we are expecting about a 10% rise in pricing. Having said that, manufacturers are surplus stocking the current models, however supply and demand will likely drive up the prices of today's water heaters.
Want to know more about replacing specific water heaters?
Click here for AO Smith replacement options
Click here for State replacement options