Tankless water heaters are on the rise, whether it be existing homeowner's upgrading or new homes being built.  Homeowners here in the Richmond, Virginia area are realizing all the benefits of upgrading to energy-saving, tankless hot water.
The main benefits of going tankless are monthly savings, amount of hot water, adding property value to your home and space savings. On average it has been reported tankless uses up to 40% less energy than traditional units. In fact, they are Energy Star approved by the EPA. The longevity of these units is up to double what a standard water heater lasts. Tired of getting a cold shower? If you have a big family you will appreciate the virtually limitless amount of hot water available to you. Last, the space savings is fantastic. Instead of a huge water heater tank taking up an entire closet or corner of your garage, go tankless! Tankless systems are about the same size as a briefcase.
We Install the Leading Tankless Water Heater Brand, Rinnai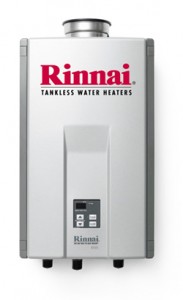 Robinson's Plumbing Service sells top brands including Rinnai. Rinnai is the world's largest gas appliance manufacturer. One of their specialties is Tankless and they have been in business for 45 years. They currently have over 30 million tankless systems in the market! Some of their accolades include the 2010 Builders' Brand Leader by Builder Magazine. They have also won a Super Nova Award for energy efficiency by Bestcovery.com.
Let Robinson's Plumbing Service help you get a tankless system set up in no time. Our water heater installations are fast and easy so you can be enjoying limitless hot water in a flash. Contact us today!