We know you don't want just anyone in your home. Neither do we! When a plumber, or professional tradesperson of any type comes to your home, how do you know you can trust them in your space? Most importantly, can you trust them around your family?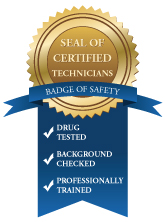 The plumbing technicians at Robinson's Plumbing Service pass a thorough criminal background check and drug test and they are professionally trained. Our plumbers are Seal Certified Technicians which means they are reliable and trustworthy. We don't hire anyone with a criminal history or who has a positive drug test. That may seem like common sense, but it is not always adhered to in the service industry. We have interviewed plumbers with impressive skills and knowledge but when a record check or drug test comes back with blemishes we do not hire that person – even when we really need the help.
Robinson's Plumbing Service Committed to Excellence
Even after hired, Gary Robinson continues to instill professional values on the team. Each team member is accountable for the service provided and we value the feedback from our customers that keeps us constantly improving. After each service, you'll receive at least one request for feedback on your experience with us which we take seriously. Positives are reinforced and we immediately address opportunities to improve service because your trust is of the highest priority to us. Take a look at what some of our customers have to say about their experience with RPS.
Call Robinson's Plumbing Service today 804-794-0918 to schedule an appointment and know the plumber who arrives at your house is someone you can trust and will get the job done right.