Commercial establishments are required by the American Disabilities Act to follow specific guidelines on installing bathrooms that can be used by disabled persons. But what about the bathroom in your own home? Many of our customers find that using toilets and vanities similar to ADA standard is more comfortable for everyday life and they are choosing to install ADA compliant fixtures. That said, "comfort height" does not mean "ADA Compliant", but is a less stringent guideline to more comfortable living.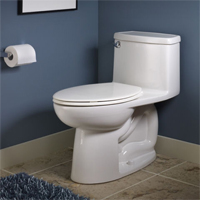 Standard issue toilets range from 14 to 16 inches high and some of the newer designs are even lower. The ADA required height for toilets is between 17 and 19 inches making it easier to seat yourself. Many people of all ages and abilities prefer a comfort height toilet that is at a more natural sitting level.
You may not notice how far you bend down over a standard vanity but most people lean down to use the sink. This can be tough on backs, especially those prone to injury. There is a noticeable difference in comfort when washing your hands at a taller sink that prevents you from having to bend.
More frequently we are finding homes designed with comfort in mind. In many retirement communities, dishwashers are even installed higher to allow easier access for a wider range of physical abilities and comfort levels.
If you are planning a bathroom or kitchen remodel, talk to our plumbing technicians about designing your kitchen and bath to comfort height or ADA standards. The costs are similar but the effects are surprisingly better. Call 804-794-0918 or submit an online contact form today.