Imagine coming home to a flood of water in your house. Your floors, drywall, electrical systems, furniture and important photos and documents ruined. Home appliances make our lives so convenient, but have potential to cause tremendous damage. Common culprits of home floods are washing machines because the rubber hoses are infamous for bursting. Water then flows freely until someone notices and turns it off, and that could be several hours or even days. Other common leak sources of catastrophic home floods are refrigerator water lines, indoor air conditioners, water heaters and dishwashers.
WaterSafe™ says that insurance companies report 25% of 2006 insurance claims were a result of water damage. What can a property owner do to protect their biggest investment and prevent being overwhelmed by the expense and hassle of clean up and repair? Robinson's Plumbing recommends WaterSafe™ smart leak protection system as your best defense. The system is set up to monitor major appliances and if it senses moisture, it sends a signal to the shut off valve on your main water line and prevent floods that ruin your home. Upgraded versions also have monthly monitoring service that sends a wireless signal to the monitoring center and notifies you immediately to investigate and rectify the source of a leak.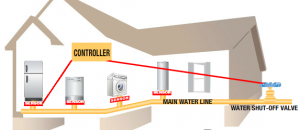 The WaterSafe™ comprehensive warranty covers up to $5,000 towards insurance deductibles and many insurance companies offer significant discounts on both commercial and residential premiums.
There are only a handful of WaterSafe™ installers in Richmond so contact Robinson's Plumbing Service to install WaterSafe at your home, business or rental property today. You'll rest easier knowing your home or business is protected.