What makes Robinson's Plumbing Service the best choice for a Richmond area plumber you can count on?
The Price We Quote is THE Price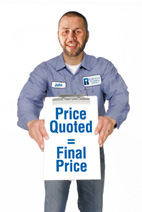 No Surprise Pricing. When we give you a price quote for plumbing work, the final job will be at or below our estimate. If something happens and costs go over what we quoted, that's on us. We eat the difference. We believe that professionals should know what they are doing, so if we evaluate your plumbing problem, we will do it thoroughly and be confident in the recommended repairs. The price we charge will not be more than the original estimate.
Our Guarantee is Above and Beyond the Industry Standard
Robinson's Plumbing Service guarantees labor and materials for two years. This is double the usual plumbing industry guarantee of one year. Regardless of the manufacturer's warranty, any equipment we supply will be replaced if it fails within two years of the installation date. Not only that, but if anything else we install fails and causes damage to your home, we will return to fix the problem and cover the expenses to repair the damage to your home. We are confident in our ability to do the job right the first time and stand behind each job with an extraordinary guarantee.
Plumbing Technicians earned the Seal of Certified Technicians
The Seal of Certified Technicians means each plumbing technician has been drug tested, background checked and has on-going professional training to keep skills sharp.
Contact Robinson's Plumbing Service for a quote on work or if you have a plumbing emergency. 24 hour emergency plumbing service is available, so keep this number handy to save time if you have an urgent plumbing problem. 804-794-0918