Preparing for a Hurricane
The Richmond weather forecasters are predicting, with increased confidence, Hurricane Sandy is going to impact Central Virginia on Sunday and could bring Richmond and surrounding areas up to 9 inches of rain, strong winds and likely power outages. Matt DiNardo at WRIC 8 says showers are going to start Saturday night with heavy winds moving in on Sunday. Thankfully, we have a few days to prepare, so besides stocking up on bread, milk, and football munchies, what can homeowners do to minimize damage to homes?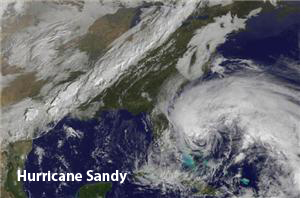 Prepare My Home for Hurricane Sandy
Start now by removing and securing outdoor items such as patio furniture, potted plants, hammocks, umbrellas, grills, and toys. Cut and remove loose branches that may endanger your house or cars. Clean out gutters and downspouts and if you have a basement – check for areas where water can get in and plug those gaps.
Advice from a Robinson's Plumbing Specialist
Make sure your sump pump is operating and the drain lines are clear. Run it for as long as you have electricity and if you have a generator, it is a good idea to have your sump pump connected to keep basements and crawlspaces dry.