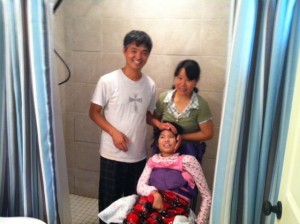 Sarah was born in Burma. Although her mom had a healthy pregnancy, there was a problem during delivery which cut off oxygen to the baby's brain. As a result, Sarah has cerebral palsy. She has been confined to a wheelchair all of her life. Her parents immigrated to the US 6 years ago. Recently, they found a house they could afford. The only problem was it was not wheelchair accessible. They bought the house with plans to make improvements as money and time permitted.
About 2 years ago, several families at their younger son's school decided to bless this family with home improvements including a double door to get the wheelchair in the house and a bathroom to make bathing Sarah easier. They
set out to find contractors who would donate their time to the project. Enter Robinson's Plumbing Service… Gary Robinson was the first contractor to donate his labor. This got the momentum going and thankfully, the family has a beautiful new bathroom- just in time for Mother's Day!
Not only was the family blessed by the generosity of so many who donated time and financial resources, but bathing Sarah is now much easier- they can roll the wheelchair right into the shower.